Are you tired of the old lawnmower that you're dreaming of something more effective than a push reel type? Or you may be thinking about going for a commercial American Lawnmower model or brand.
If you want to ride lawnmowers, here's a list of the best ones that are all American-made:
RIDER 17HP by Troy-Bilt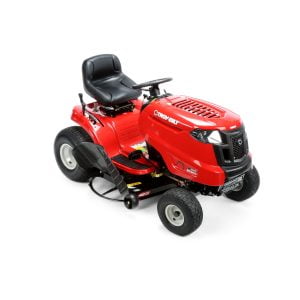 This brand and model of an American-made lawnmower is reliable and low-cost. You have five settings to choose from to adjust its deck options. 
It allows you to mow more area faster and is versatile. 
Product Features:
Limited warranty of two years

Back wheels – 20 by 8 inches; front wheels – 15 by 6 inches

Five positions to choose from in adjusting deck height

You can separately buy a rear bagger you can attach to the truck

Ample legroom and step-thru construction

Cutting deck size – 42 inches

Kohler engine will work and withstand any weather condition
What's more, its top forward speed is up to 5.3 miles per hour. You can use it at 2.5 miles per hour at a reverse speed. This means no move pivoting like a turtle in avoiding obstacles in the garden.
Moreover, it is compact, with a height of 39.75 inches. This suits those who are not fans of big and bulky mowers. Despite the small size, you can bet on its power with a steel deck of 13 gauges and a 17 HP engine with four cycles.
ZT1-54 by Cub Cadet Ultima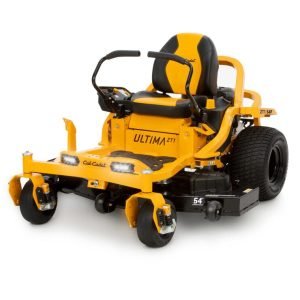 If you want an easygoing mower, this zero-turn riding model made in the US is the best choice for you. It features a cruise control and cup holders to make it more fun to use. 
Product Features:
3.5 gallons of a fuel tank

Features a tow hitch

Dual LED headlights

Accessible engine with its easy floor plan

180-degree pivoting front wheels with a size of 11 by 6 to 5 inches

1 to 4.5 inches adjustment heights, control knob, deck lift

Corrosion defense with a 2 by 2 inches steel frame

Kohler engine 4-Cycle V-Twin 7000 series 725cc
No need to break a sweat with this mower's electric key start. Its speed and deck size also helps you finish a big area of your land in no time.
HP YTH by Husqvarna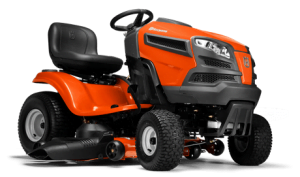 Aside from an excellent truck, this brand excels when it comes to customer support. You can send your inquiries via email and get a fast reply. It's not that costly, and you won't regret buying it when you're looking for a mower with the right mix of power and quality.
Product Features:
Bumper-to-bumper warranty up to 3 years

Cutting deck size of 42 inches

The back seat size is 13 inches, easily adjustable and comfortable

16 inches radius of turning 

Comes with reverse setting for mowing

Hydrostatic transmission for easy slow down or speed up

18.5 HP engine Briggs and Stratton
This is an upgrade if you are still using a self-propelled model. It moves swiftly in a forward or reverse motion to get the job done faster.