If you want the lawn to bloom with little effort, you might want to fertilize your grass. With a great lawn product, you will soon have strong, thick, and colorful grass. 
It is not easy to fertilize the lawn, but there are spreaders that make the process much easier. Here are some of our top picks: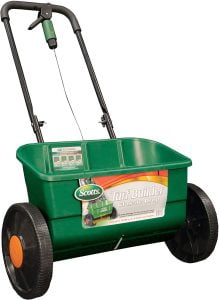 This is best when you have a small yard of less than 5,000 sq. ft. The addition of fertilizer will be a breeze since the hopper comes with enough space for a fill or two. 
The capacity goes all the way to 10,000 sq. ft. which includes fertilizer and grass seed. Its heavy-duty frame offers great stability while the spread pattern is capable of delivering maximum accuracy and coverage.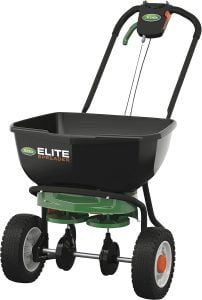 This spreader is specifically designed for big farms and gardens. Aside from using it for fertilizer, it is also good for ice salt and lawn seed. It has a robust powder-coated frame that keeps it going even in extreme weather. You can expect it to remain usable for a very long time.
It has a large capacity of as much as 20,000 sq. ft. As you can imagine, it will be easy to cover big spaces in no time at all. Its dual rotor tech is accurate and evenly distributed. It is already assembled and adjusted, so you can use it right away.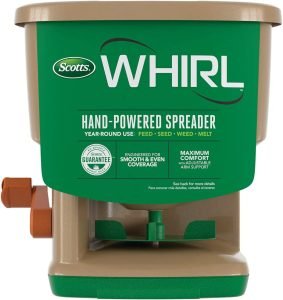 If you want to get the best bang for your buck, go with this product. It is efficient, economic, and lightweight all at the same time. 
It comes with five settings that let you control the amount of fertilizer it spits out. It is a two-handed spreader, but there is wrist and arm support available for ergonomic reasons.
While it is affordable, it is an efficient unit. It might seem flimsy, but this will do the trick when you want to improve the strength of your grass. As long as you are working on a small yard, you will be happy with this spreader.