When investing in a riding lawn mower, you want to make sure you're getting the best bang for your buck. After all, this isn't some cheap push reel mower from your grandpa's era – riding mowers are serious business.
But how much do these bad boys set you back nowadays? Maybe you've seen some deals that seem too good to be true or prices that would make your wallet weep.
Before you start shopping around, you need to know the range of costs for a riding mower to find one that fits your needs and budget. Get ready for some sticker shock and savvy tips to save you money. By the end, you'll know exactly how much that new set of wheels for your lawn will cost. Let's help you care for your lawn with a new mower!
Introduction to Riding Lawn Mowers
We guess you're in the market for a riding lawn mower. But sticker shock has you wondering how much one of these grass-cutting workhorses costs. Prices vary greatly depending on your lawn size and needs. So, to ensure you get a perfect lawn mower and follow through on your mowing practices, check out the following facts.
Size of Your Lawn
The larger your lawn, the more you'll pay for a mower to handle the job. Mowers for 1/4 acre lots start around $1,500. On the other hand, lawn tractors, electric mowers, or rear engine mowers for an acre or more average $3,000 to $5,000. The gas engines also get bigger – and more expensive – as the mowing area increases.
Basic or Loaded
As expected, a basic riding mower with a manual transmission, single blade, and no extras will be on the lower end of the range.
The price climbs as you add features like hydrostatic transmissions, wider cutting decks, mulching capability, headlights, cup holders, and Bluetooth speakers. Typically, high-end mowers with all the bells and whistles cost $10,000 or more.
New or Used
Frankly, buying a used riding mower is a great way to save money. Well-maintained mowers 3-5 years old can go for 50-70% of the new price. However, look for models with few hours, new blades, and service records. And have a trusted mechanic thoroughly inspect any used mower before you buy.
Additional Costs
Don't forget that a riding mower requires fuel, oil, a battery, and maintenance like blade sharpening or replacement. So, budget at least $200 to $500 per year for these additional costs. The total cost of ownership over the lifetime of your mower may be significantly more than just the initial purchase price.
Ultimately, you can get a perfectly capable riding mower for a few thousand dollars up to $10,000 or more for a high-end model. Ensure you research brands and features to determine what best suits your needs and budget.
Factors That Impact the Cost of a Riding Lawn Mower
The cost of a riding lawn mower differs depending on several factors, like the mower deck or easy-to-read fuel gauge. Here are a few things that determine how much you'll pay:
Engine Size and Horsepower
The larger the engine, the more power and torque it will have to handle tough mowing conditions. More powerful mowers with larger engines, like those over 20 HP, typically cost $2,500 or more. An engine in the 15 to 20 HP range for a medium-sized lawn should work great and cost less.
Cutting Width
A wider cutting width means you can mow your lawn faster, but it also means a higher cost. You'll pay more for a mower with a cutting width of 50 inches or greater than one in the 30 to 40-inch range. A 38 to 42-inch cutting width is a good, budget-friendly size for most homeowners.
Transmission Type
Typically, automatic transmissions are more expensive than manual transmissions. A hydrostatic transmission is easy to operate but is typically the most expensive type. While manual transmissions may require more effort to drive, they can save money.
Extra Features
Cup holders, Bluetooth speakers, LED headlights, and storage compartments add to the cost. Basic models have minimal features, while higher-end mowers offer more amenities for comfort and convenience at a premium price.
Brand and Quality
Higher quality, premium American brands are priced higher than more affordable, mass-market brands. Commercial-grade mowers also cost significantly more than models designed for home use.
With so many options at different prices, you can find a riding lawn mower that fits your needs and budget. Research brands, specs, and features to determine how much mower you need.
Average Price Ranges for New Riding Mowers
The price of a new riding lawn mower varies quite a bit depending on the size of your lawn and your needs. Generally, you can expect to pay between $1,500 to $10,000 for a quality riding mower.
Basic Models – $1,500 to $3,500
An entry-level riding mower should suit you well if you have a small yard of 1/2 acre or less and basic needs.
At this price point, you'll find models with cutting decks of 30 to 42 inches, powered by small engines (around 15 to 20 HP).
Brands like Craftsman, Poulan Pro, and Troy-Bilt have reliable mowers in this range. While basic, they'll get the job done for a modest lawn.
Mid-Range – $3,500 to $6,000
For a mid-range model, medium to large-sized lawns of 1/2 to 2 acres are ideal. These mowers feature more powerful engines (around 20 to 25 HP) and wider cutting decks of 42 to 54 inches for faster mowing.
You'll also get useful features like cruise control, cup holders, and Bluetooth connectivity. Popular brands in this segment include Husqvarna, Cub Cadet, and John Deere.
Premium Models – $6,000 to $10,000
Investing in a premium riding mower like a lawn tractor or zero-turn mower may make sense if you have a sizeable multi-acre property or landscaping business.
These pro-level mowers are built for high performance, long-lasting use, and maximum comfort. They offer commercial-grade engines (25 HP and up), wide cutting decks (54 inches or more), heavy-duty welded steel frames, and deluxe seating with suspension. Brands that produce premium riding mowers include Exmark, Scag, and Ferris.
The specific model you choose depends on balancing your needs and budget. But in the end, spending a bit more upfront on a quality mower will reward you with better performance, durability, and a longer useful lifespan. Besides, the reward of a perfect cut and pristine lawn is priceless.
Ways to Save on Your Riding Lawn Mower Purchase
The price of a riding lawn mower may shock if you're not prepared. However, these few tricks knock down the cost and save your wallet from taking too much of a hit.
Shop Off-Season
Riding mower prices are highest during peak mowing months in the spring and summer. Shop in the fall or winter when demand is lower. That way, retailers will discount mowers to make room for new inventory. You may be able to get a previous year's model for 10-25% off, sometimes more.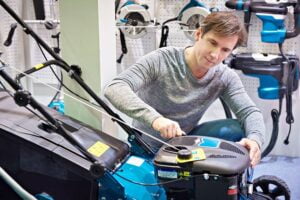 Compare Prices
Research to find the average retail price for models you're interested in. Then, compare prices at different retailers like Home Depot, Lowe's, Walmart, Target, and Tractor Supply Co. You can often find the same mower for $200-$500 less just by shopping at the store with the best price. Don't forget to check the manufacturer's websites for current promotions or coupons.
Consider a Smaller Size
If you have a small to mid-sized yard of 1/2 acre or less, you can probably get by with a smaller riding mower. Compact tractors and mowers with cutting decks of 30-42 inches may cost $1,500-$3,000 less than larger mowers. Make sure any mower you choose has an engine with enough power for your yard. But a smaller mower should save you money for most suburban yards.
FAQs About Riding Lawn Mower Prices
So you're interested in buying a riding lawn mower, but sticker shock has you wondering—how much do these things cost? Riding mower prices vary greatly depending on the size, brand, and features. Here are some frequently asked questions to help determine a budget-friendly price range.
How Much Should I Expect to Pay for an Average Riding Lawn Mower?
For a typical riding mower that can handle 1/2 acre to 2 acres, you'll usually pay between $1,500 to $3,500. The sweet spot for most homeowners is $2,000 to $2,500. At this mid-range price point, you can get a durable mower from a reputable brand. It might even come with a 38 to 42-inch cutting deck, a 15 to 20-horsepower engine, and useful features like cruise control, cup holders, and headlights.
How Much is Professional Lawn Mowing?
The cost of professional lawn mowing services hinges on a few factors, like the size of your lawn, the complexity of the terrain, the frequency of service, and your location. On average, you can expect to pay between $30 and $80 per visit for a standard-sized residential lawn. Of course, you won't pay that much just to edge your lawn. However, more extensive lawns or lawns with additional landscaping features may cost more.
Conclusion
As with any major purchase, it pays to research the model that best fits your needs and budget. So, whether you want zero-turn mowers, electric mowers, or any type, research extensively first.
While the initial sticker price of a riding mower can be high, the time and effort it saves you in maintaining your lawn may well be worth it.
Just be sure to factor in fuel, oil, replacement parts, insurance, and storage space costs. If the total expenses still seem too steep, you might consider other options like a lawn service, a smaller mower, or even reducing the lawn you have to mow.
The choice is yours, but at least now you know better what that shiny new riding mower in the store will cost you.